Step 1

Complete The
Quote Form
Complete our online repair form, which helps you to describe the type of repair that is needed. Our technicians will contact you to discuss and provide you with a cost.

When you are happy with the quote we will create a job on our system and send you an invoice which you can pay online via PayPal or using your credit/debit card.
Step 3

Send Us
Your Eyewear
Package your eyewear securely and send it to our lab for repairing. We recommend you send your parcel registered post as we cannot be responsible for items lost.
Step 4

Carry Out The Repair and Send
your Eyewear Back
Once we have recieved your eyewear our technicians will carry out the repair and send your glasses/sunglasses back to you within 24 - 48 hours of receipt of your eyewear
Our representative will get back to your inquiry within 24-48 hours. For sure!...
Nose pad replacement arms
Replacement spring hinge
Remove broken screws
Rimless frame repair lens replacement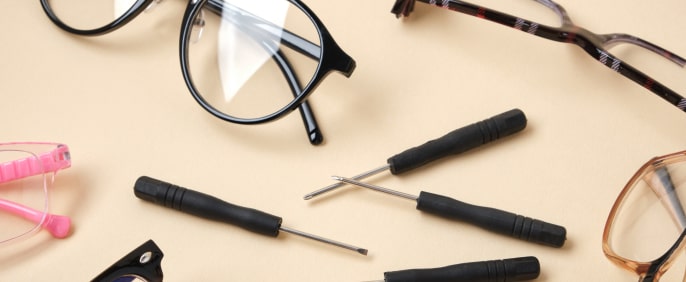 Replacement arms
Replacement hinges
Replacement spring hinge
Remove / Replace screws
Side arm repairs
Plastic welding broken frames
We have developed a technique to repair just about any Spring hinge mechanism available. This saves time & expense, trying to match designer temples that are often discontinued.
As spectacles, sunglasses can be repaired in the same way as they are generally made from the same materials. We also offer lens replacement for all types of sunglasses except visor lenses.
Our specialists routinely perform lens replacements on eyewear sent in by customers. Customers send in eyewear to have lenses replaced for a variety of reasons. Lenses can crack, fade, colour prescriptions can change or the client may simply have dropped the item on the ground causing the lens to become cracked. Our lab can cut lenses to virtually any shape, and apply a Solid Lens Tint to virtually colour. Usually when glasses are sent to repair and an existing lens is available; our lab will trace the new lens from the old one. If a frame is still available by the manufacturer, we can simply order a new set of lenses right from the manufacturer without having to cut a custom lens job. If the lens is not available, need not worry, our specialists can trace a new lens simply by the shape of the opening. Need not worry about matching colours, all lenses are replaced in sets of two. However, there is one type of frame that we cannot make lenses for and this is a visor lens. A visor lens is one continuous lens.